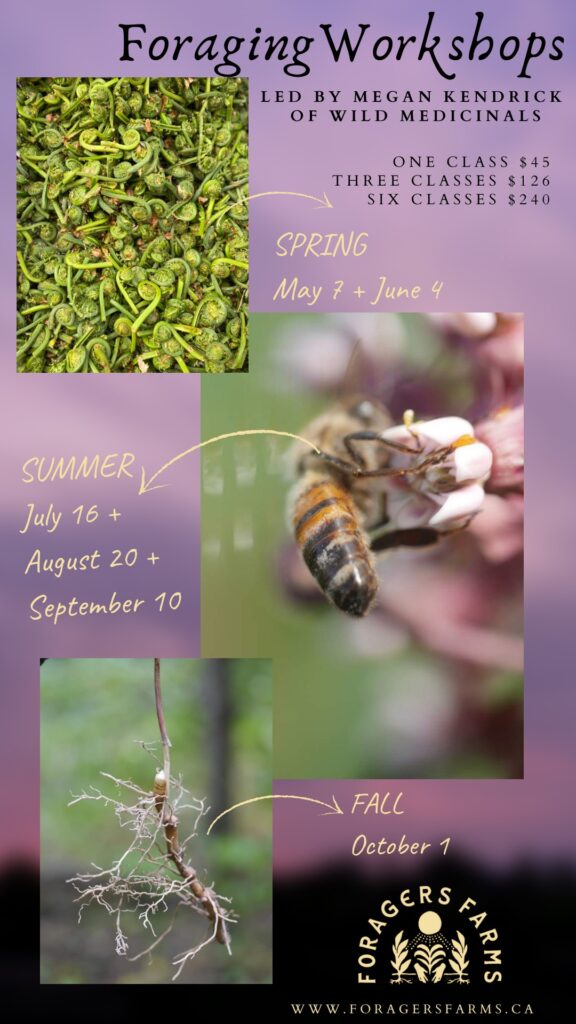 Join Megan Kendrick of Wild Medicinals on a frolic at our farm through its rolling open hills and our neighbours Headwaters Farm forests. Allow experienced herbalist Megan to guide you on an exploration of these lands and that which grows within them. Witness how plants have many growth stages through each season, consider signing up for 1 workshop per season or all 6, where you visit new plants and get to revisit them throughout each workshop! This frolic is good for the newer foragers looking to learn some of the basics along with details on beyond the basic wilds.

_____________________________________

Cost
$45/class
$126/three class
$240/six classes
_____________________________________

How to sign up?
Fill out our google docs form.
Please pay immediately after signing up.
E-mail [email protected] if you have any questions. We accept e-transfer to [email protected]/cash/cheque.

_____________________________________

Dates + details below….

**AUGUST DATE CANCELLED**
Dates and details

Spring
May 7th Early Spring Ephemerals 1pm-3
June 4th Mid Spring Shoots 1pm-3
The plants are coming out! This is such an exciting time to explore the fields and forests and catch a glimpse of spring ephemerals (lasting for a short time, just here for a moment, a month, a week, a day) plants and tree flowers. Learn to identify and kindly gather some wild plants to infuse spring's energy into your life!

Summer
July 16th Early Summer Blooms 1pm-3
*CANCELLED* August 20th Mid Summer Flourishing Flowers 1pm-3
September 10th Late Summer Harvest 1pm-3
This time of year it's easy to be overwhelmed by the 'wall of green' plants. Together we will learn to identify some of the abundance of wild plants in bloom! Expect to leave each workshop feeling inspired to connect to our local wilds.

Autumn
October 1st Early Autumn Roots 1pm-3
As the plants send their energy back into the earth we will dig deeper into our connection with the plants. Digging up roots and learning about these tasty, and powerful food and medicines under our feet. We will also explore some utilitarian uses of plants that can keep us connected through the winter ahead.