Herbal Workshops led by Marissa (Marissa's Herb Garden)

May 28: Herbal oils and salves
June 11: Herbal first aid
July 15: Basics of herbalism & intuitive tea blending
July 18: Making Colour with Flowers for Kids
July 30: Herbal tinctures
August 22nd: Foraging and Cooking for Kids.
August 27: Fire Cider & Herbal Vinegars
September 23: Herbal syrups & honeys
October 7: Herbal oils & salves

All workshops are 1pm-3:30 besides kids (see poster for times)
$45 per participant or 3 workshops for $42/each
Kids workshops $30/each or 3 for $28/each

Read descriptions below…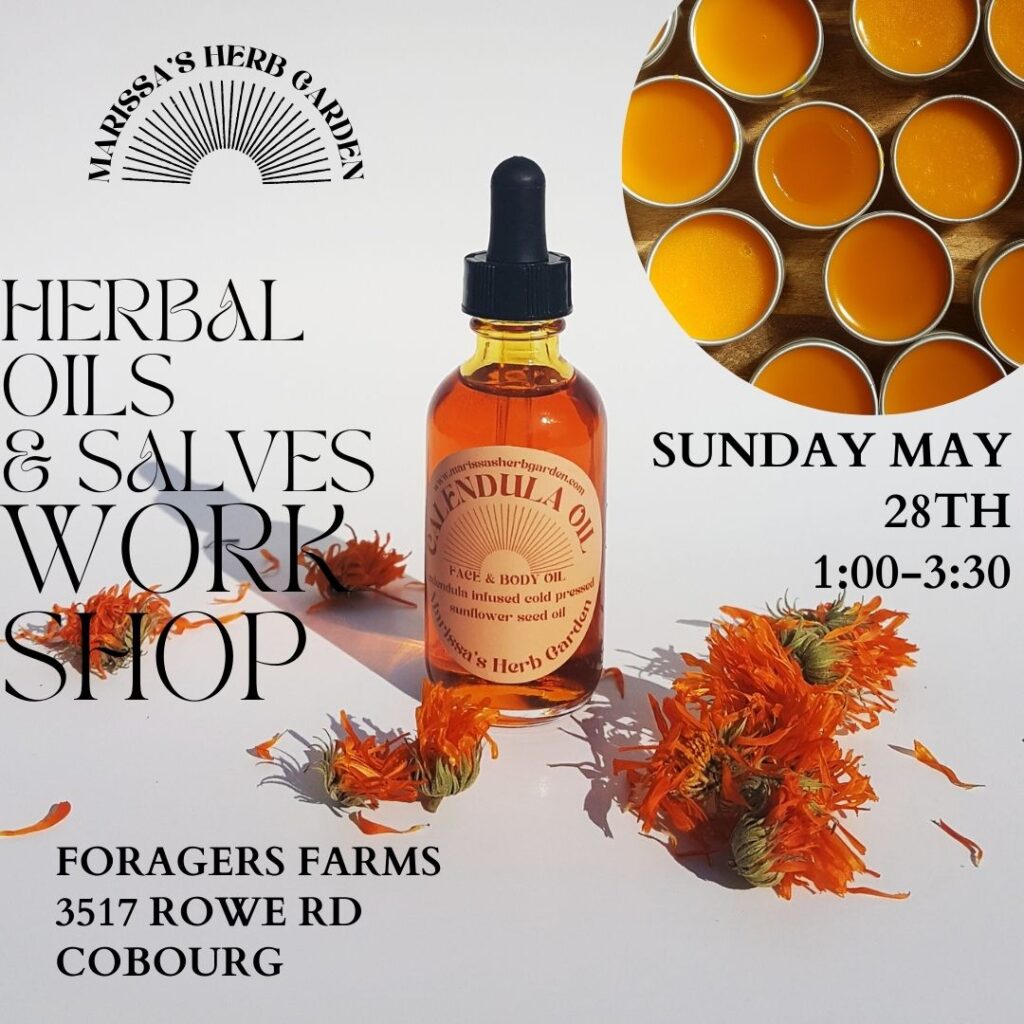 May 28th

Learn how to make your own potent herbal oils and transform them into salves for use in first aid and skin care. This is an introductory course that will give you comprehensive knowledge of using dried herbs for making infused oils and salves.

What is a salve? What base oil should I use? How long do I infuse my herbs? Do I use a heat method? What is the shelf life of these oils? How should I use them? What ratio of beeswax to oil do I use to make a salve? We take you through all the steps and answer all your questions about making these preparations. This course is meant for participants with the most basic knowledge of herbalism. If you have little to no knowledge of herbal oils and salves, then this course will build your confidence in making your own herbal oils and salves.

Marissa has many years of experience crafting herbal oils and salves. She will guide you through all the steps and answer your questions related to making these topical preparations. Participants will leave the workshop with a prepared herbal oil and salve they made during the workshop. Participants will also be sent a document outlining all the steps of making herbal salves and oils, so they can make them at home with confidence.

$45 per participant or 3 workshops for $42/each
June 11

Learn how to use herbs in simple first aid situations at home to treat poison ivy, basic wounds, bug bites, burns, strains and sprains, congestion, fevers, and more. Learn to make poultices, washes, and rinses. We will go out in the garden to learn about the useful herbs that grow ubiquitously around your home. We will also have a quick look at useful kitchen spices that can be used in simple first aid situations. Participants will leave the workshop with a basic knowledge of using herbs for first aid and the confidence of using them at home.

$45 per participant or 3 workshops for $42/each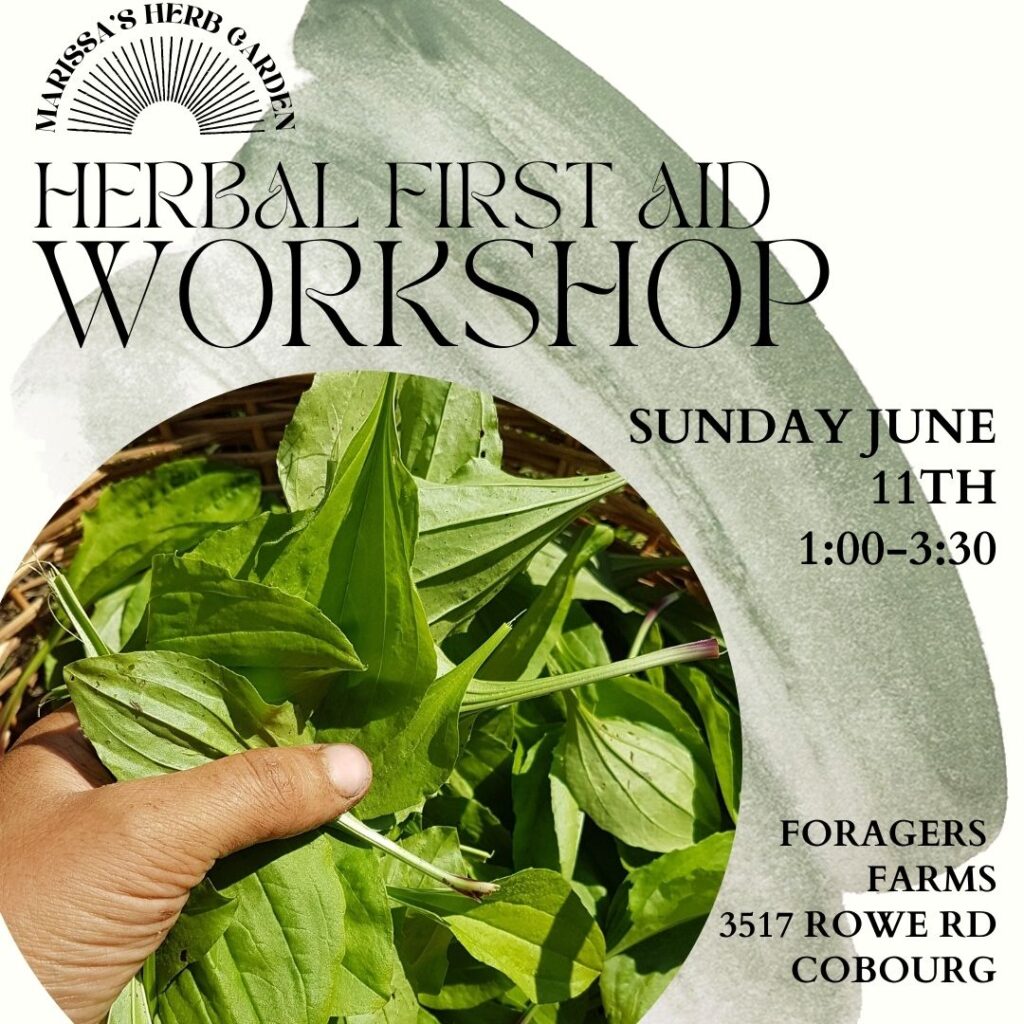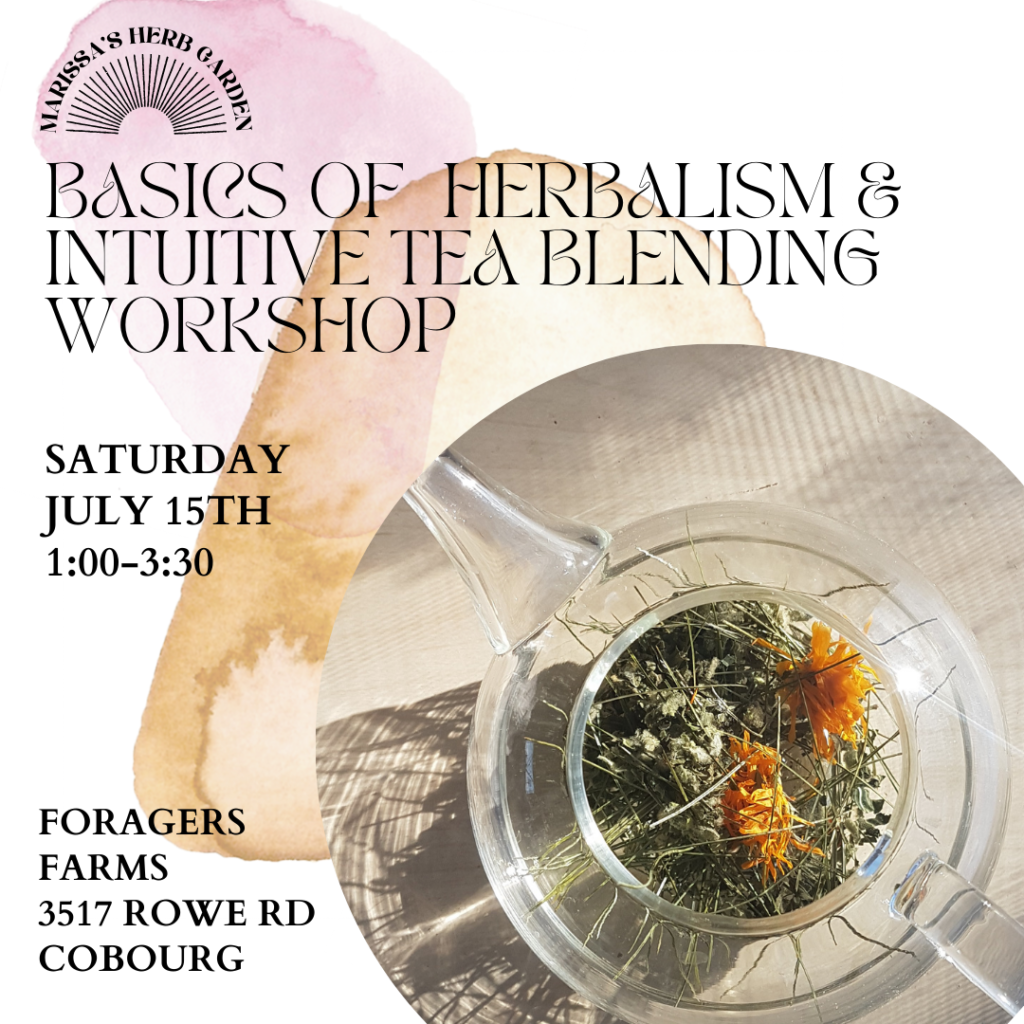 July 15th

Learn the basics of herbalism through exploring herbal tastes and herbal actions. We will take a walk in the garden to learn hands-on about the unique qualities of herbs. We will cover the basics of formulating and participants will make their own tea blends out of dried herbs to take home. Learn about basic herb properties and their benefits. This is an opportunity to experiment and play with various herbs, and to make a blend that is best suited to you.

$45 per participant or 3 workshops for $42/each
July 18th

Kids will explore creating colours with flowers from the garden by dyeing a piece of cloth and turning flowers into paint. This is a workshop to encourage kids to get creative, have fun with colour, and explore new possibilities for using plants.

Ages 6-12
*if parents need to attend with kid they are free!
$30/each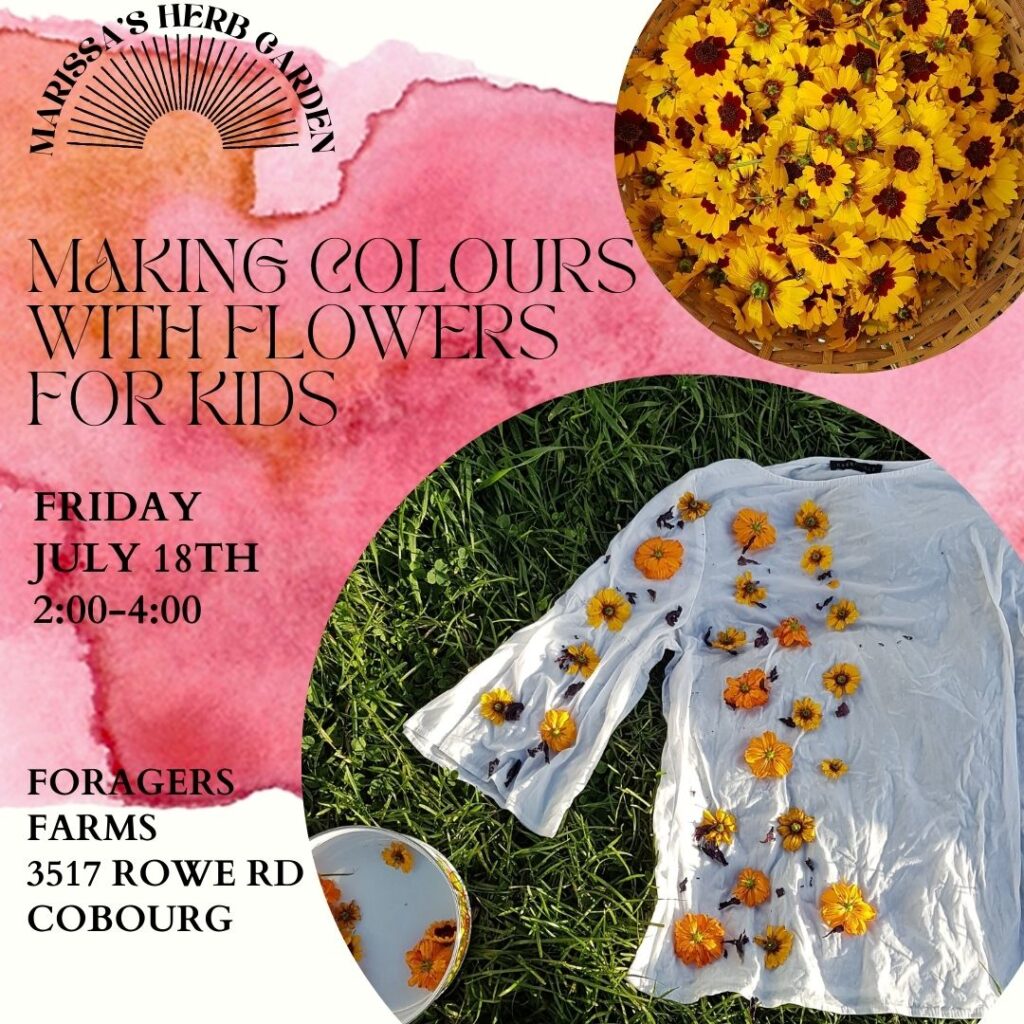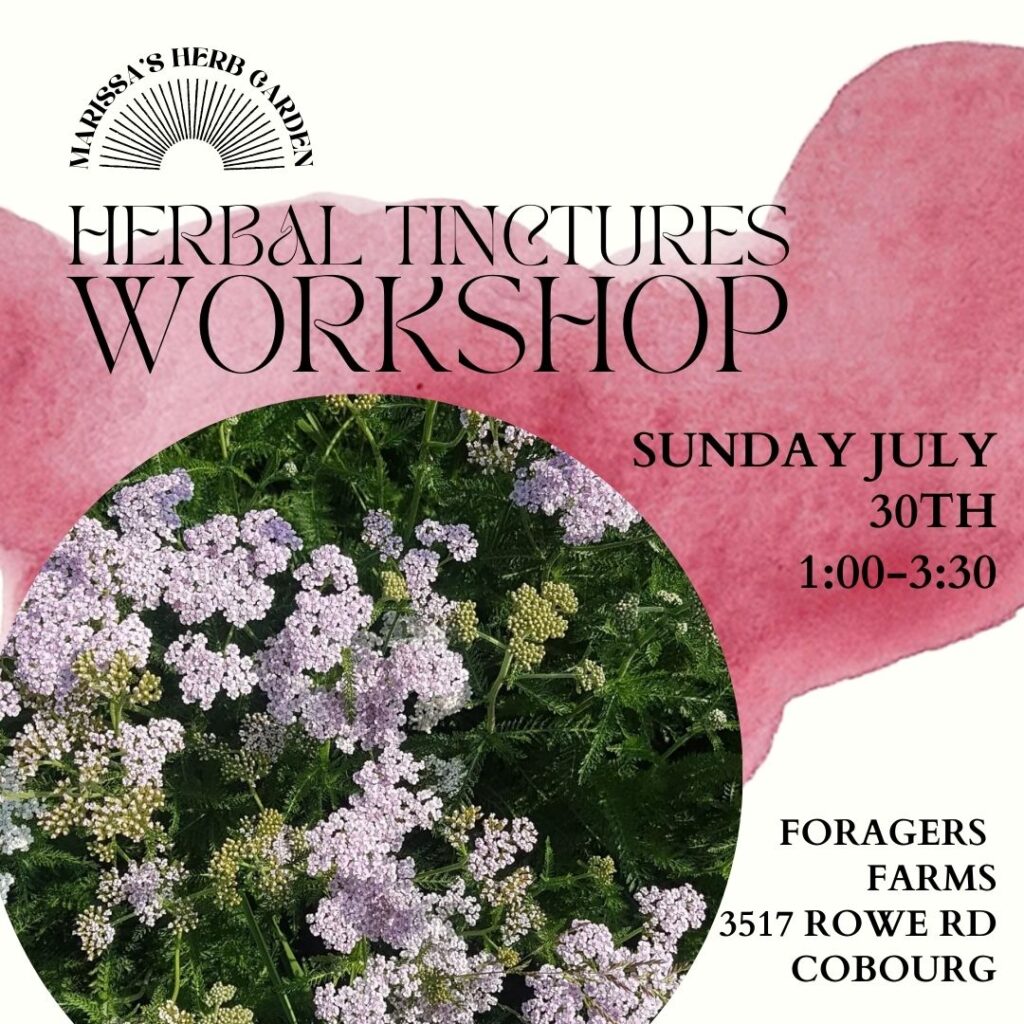 July 30th
Learn to create potent herbal extracts using fresh herbs in alcohol and vinegar. We will cover topics such as using fresh herbs over dried herbs, which substances are better suited for extracting some plant constituents over others, why make alcohol-based vs. non-alcohol-based tinctures, which alcohol percentage to use, how long to infuse your herbs, how to use them, internal and topical applications of tinctures, basic safety, and a basic overview of herbal properties. Participants will be able to go out in the garden and harvest fresh herbs for making their tincture.
Participants will leave the workshop with an herbal tincture of their making, basics of herbal knowledge, and the confidence and know-how to make their own herbal tinctures at home.
$45 per participant or 3 workshops for $42/each

August 22nd

Marissa will lead a foraging walk with the kids to gather edible flowers and weeds to prepare a simple, delicious dish together with all the amazing edible plants in season.

Ages 6-12
*if parents need to attend with kid they are free!
$30 each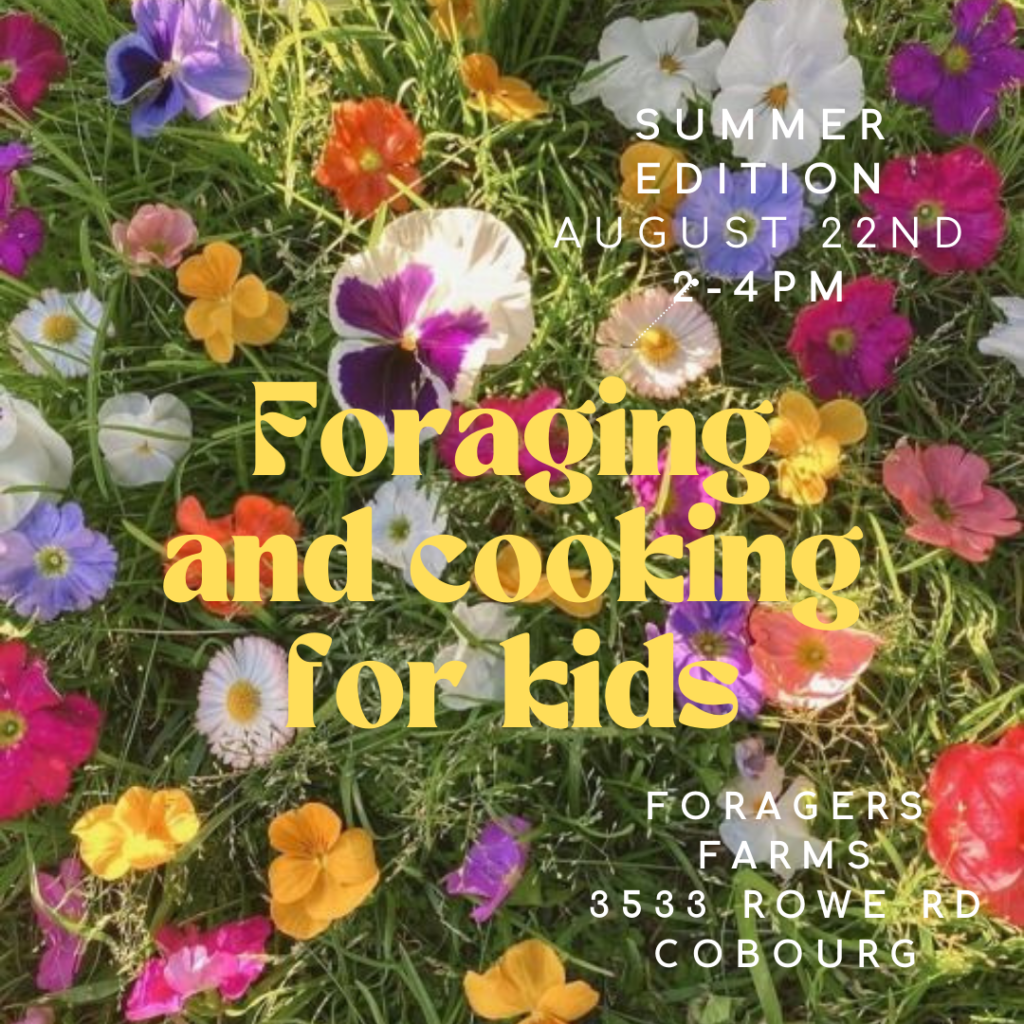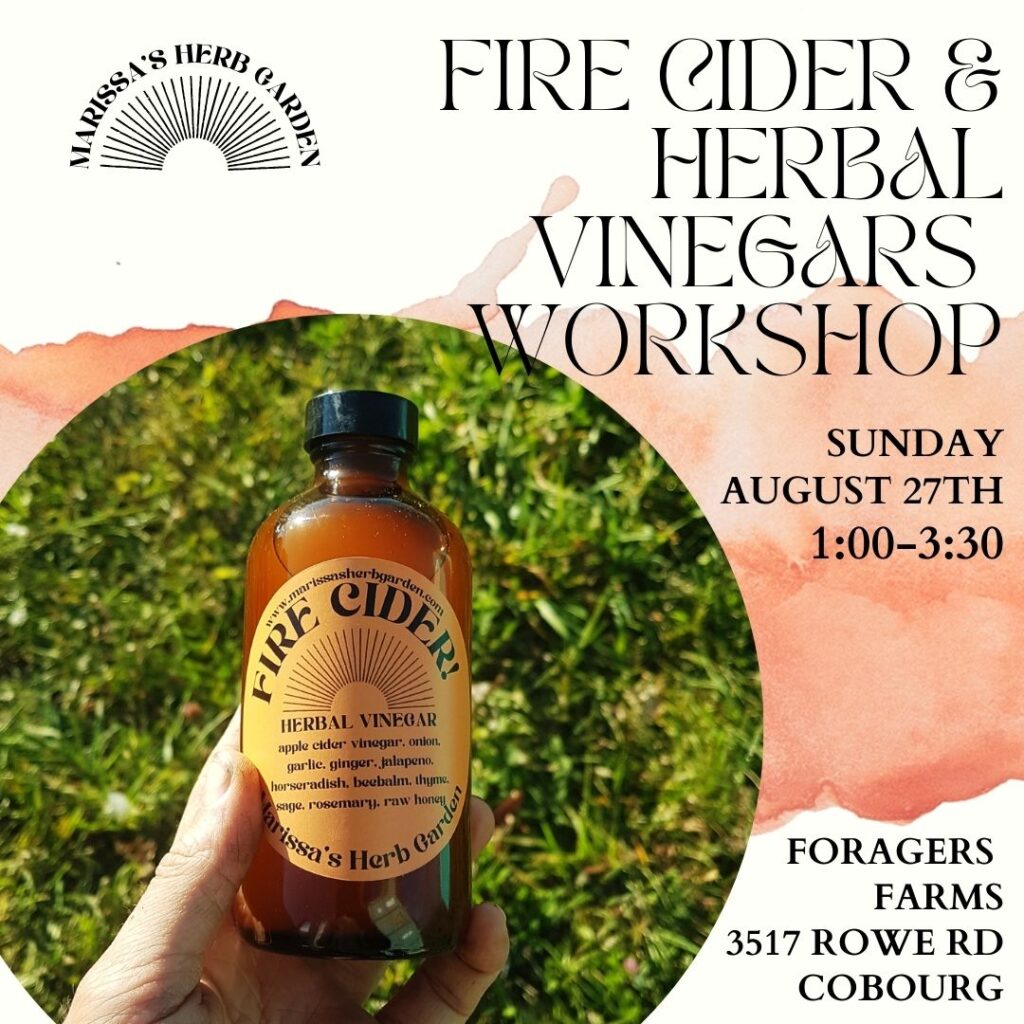 August 27th

Fire Cider is a popular herbal preparation combining pungent herbs, vinegar, and honey. It is a potent and effective herbal vinegar used to ward off colds and other illness. This workshop will take you step by step into making your own fire cider. We will cover its benefits and uses, and you get to play around and be creative with the making of your own fire cider. Participants will leave the workshop with a Fire Cider of their making and a basic understanding of herbal vinegars and oxymels.

$45 per participant or 3 workshops for $42/each
September 23rd

In this workshop, participants will learn to make an elderberry syrup. Herbal syrups and honeys are simple ways to preserve herbs and administer them to your family, especially children. Learn about their benefits and how to make these simple preparations, and how to use them in your kitchen and home apothecary.
We will take you step by step into creating an herbal syrup for treating common ailments. Learn about the correct proportions to use and how to best preserve your herbal syrup and honey, their benefits, basic safety, and their uses. Participants will leave this workshop with a basic knowledge of herbal syrups and honeys, and they get to take home a bottle of elderberry syrup as well as an herb infused honey.

$45 per participant or 3 workshops for $42/each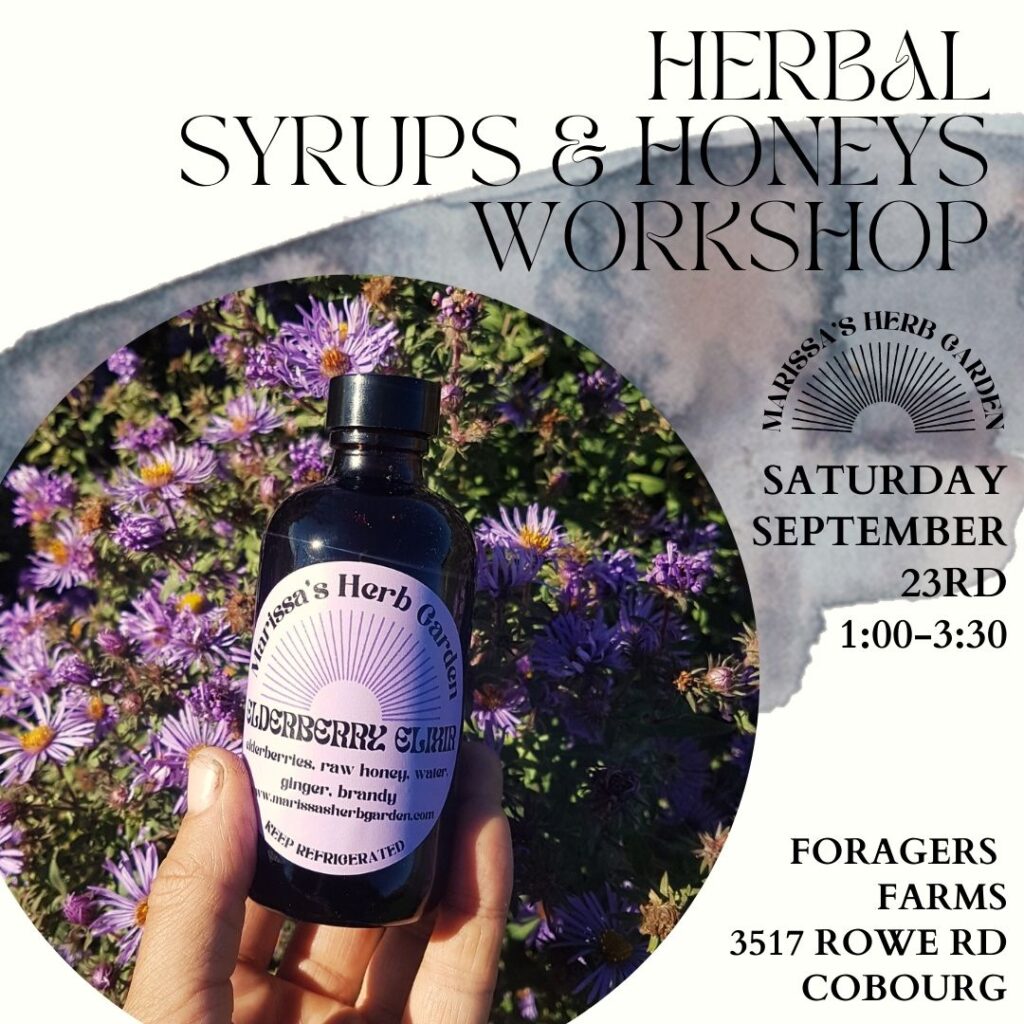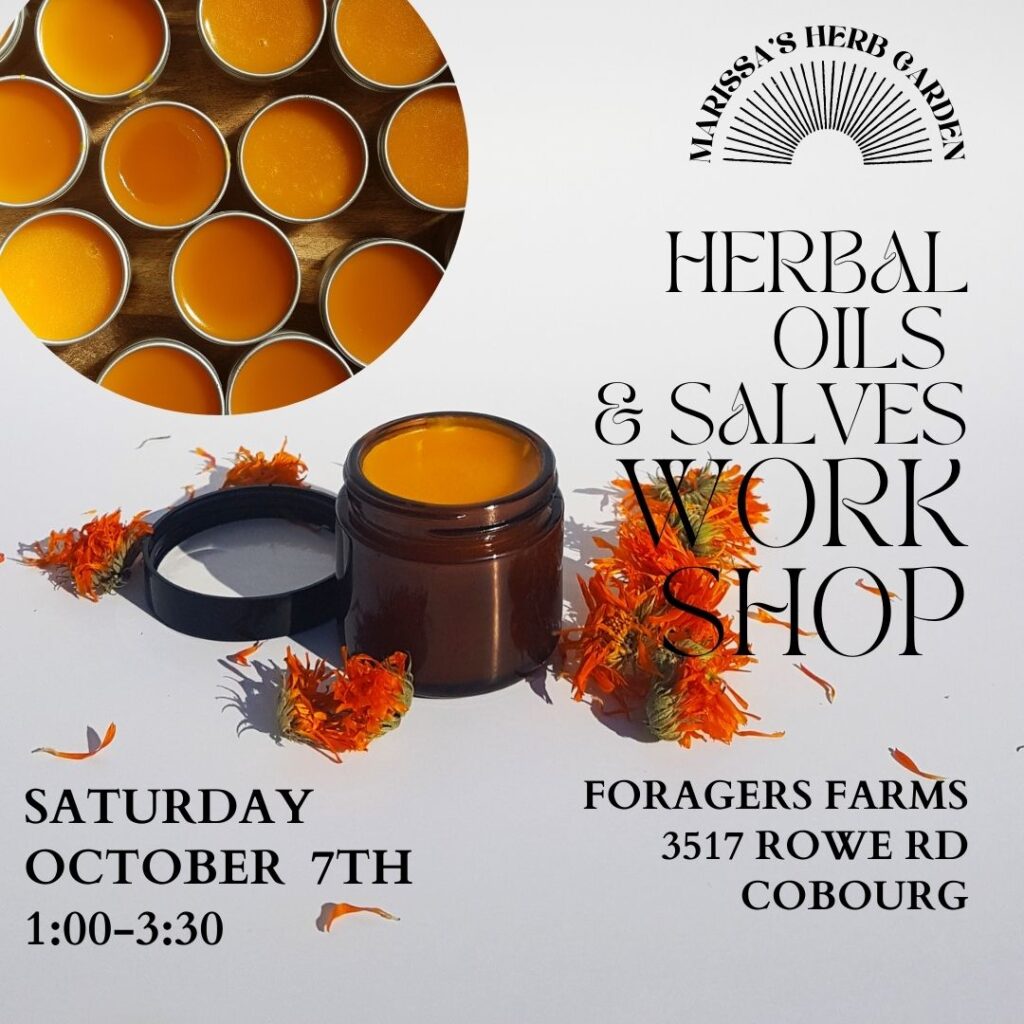 October 7th

Learn how to make your own potent herbal oils and transform them into salves for use in first aid and skin care. This is an introductory course that will give you a comprehensive knowledge of using dried herbs for making infused oils and salves.
What is a salve? What base oil should I use? How long do I infuse my herbs? Do I use a heat method? What is the shelf life of these oils? How should I use them? What ratio of beeswax to oil do I use to make a salve? We take you through all the steps and answer all your questions about making these preparations. This course is meant for the participant with the most basic knowledge of herbalism. If you have little to no knowledge of herbal oils and salves, then this course will build your confidence in making your own herbal oils and salves.
Marissa has many years of experience crafting herbal oils and salves. She will guide you through all the steps and answer your questions related to making these topical preparations. Participants will leave the workshop with a prepared herbal oil and salve they made during the workshop. Participants will also be sent a document outlining all the steps of making herbal salves and oils, so they can make them at home with confidence.

$45 per participant or 3 workshops for $42/each


Meet Marissa of Marissa's Herb Garden!
In 2021 we were looking to shift our foraging/herbal products to another small business. We met Marissa a few years earlier through another farm. She was the perfect fit! We share resources with each other and help spread the word of her new herbal business. You can learn more about her under our Partnership section!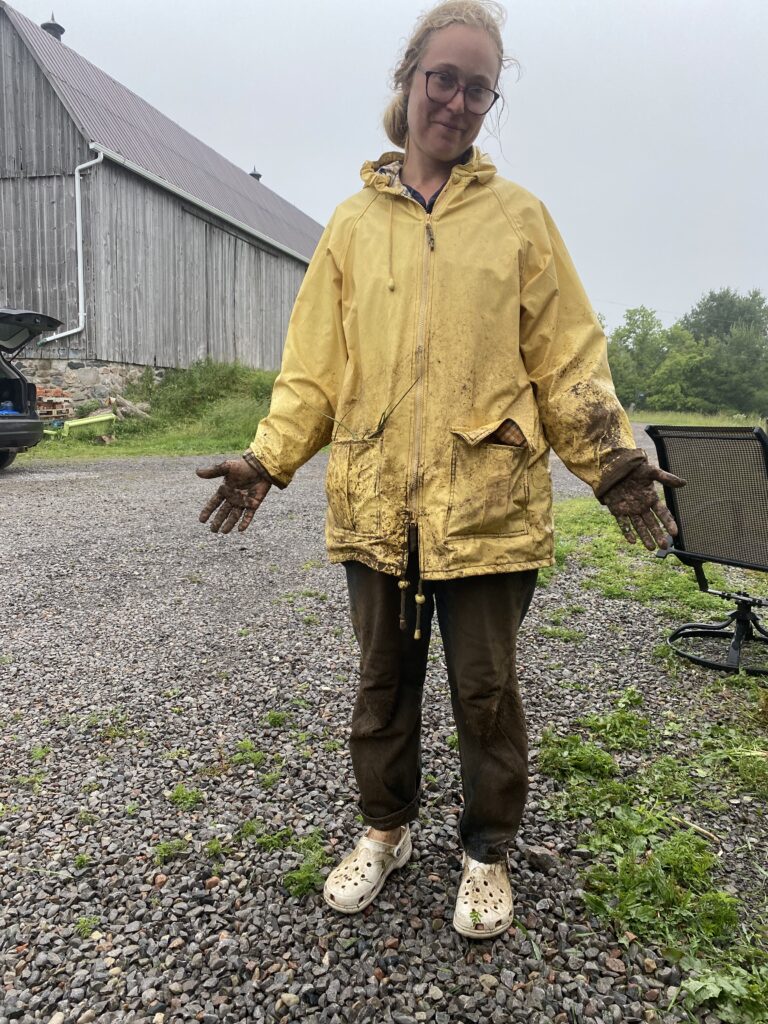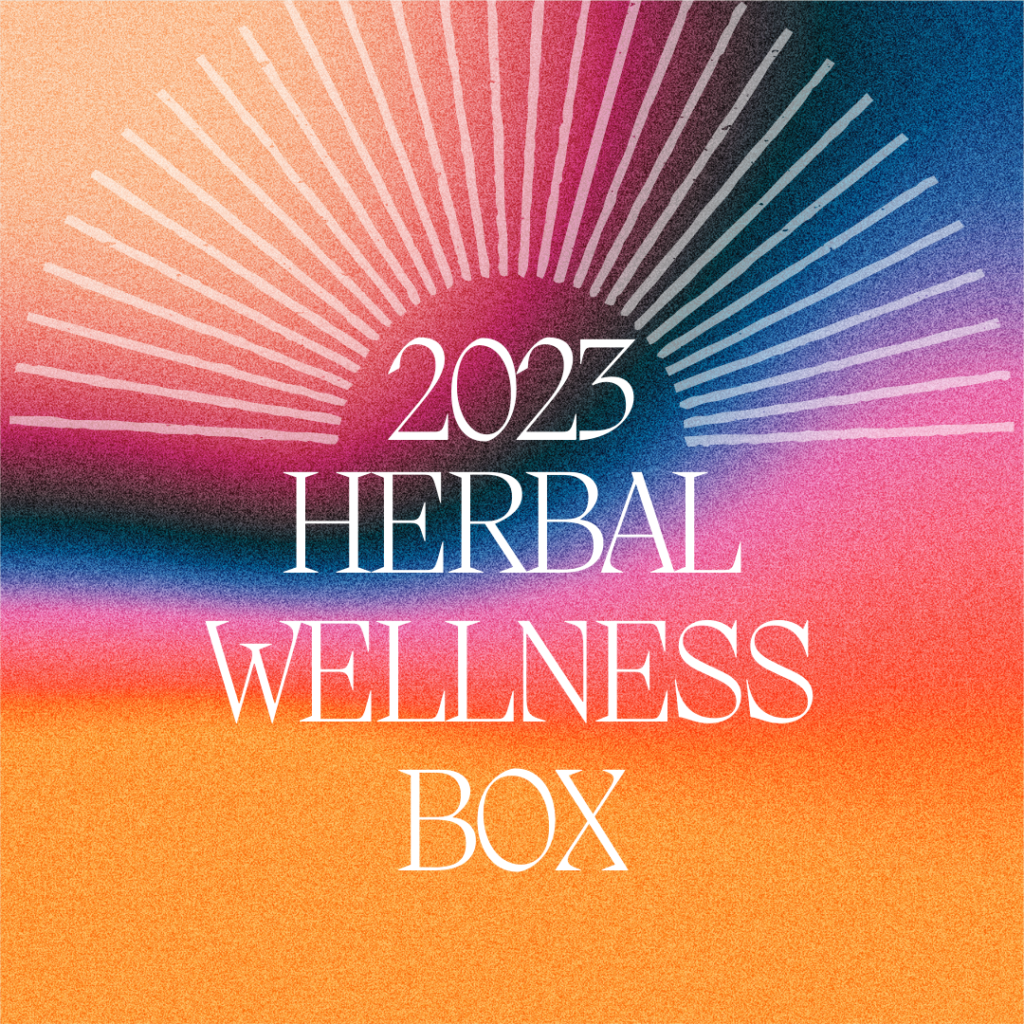 The Seasonal Herbal Wellness Box subscription is a collection of 4 boxes each containing 4 seasonally crafted products meant to support wellbeing throughout the changing seasons. The boxes are released seasonally, the first one coming out in May 2023. $300/4 seasons of wellness. Fill out the google docs form by clicking ORDER NOW below and e-transfer [email protected] subject: herbal wellness box
Why the Herbal Wellness Box?
– It is an opportunity to stock your apothecary with seasonally crafted products that support your health and wellbeing.
– It is an opportunity to follow the rhythm of the seasons and to learn more about the herbs that are available to you seasonally.
– Each purchase of the Herbal Wellness Subscription is an investment to support this small farm throughout the seasons. Think of it like a CSA subscription (Community Supported Agriculture).
– Subscribers get a better price than the full retail value of these items, and some of the products in this box are exclusive to subscribers.

Each box may contain some of the following: salve, balm, herbal oil, oxymel, hydrosol, seasoning herbs, seasoning salts, tincture, herbal syrup, tea blend, and more. Plus, receive an electronic file on how to use each product with simple recipes and detailed information on featured herbs.

Because of the unpredictability of seasons year to year, and because each product is custom made according to the seasons, the contents of the box may not be disclosed ahead of time.

This is a preorder item. Each box will be released seasonally and subscribers will be notified by email the time for pickup, first box being released in May 2023.

Foragers Farms is offering pickup:
Tuesdays: farm store 2pm-6
Wednesdays: Peterborough Regional Farmers Market
Fridays: farm store 2pm-6
Saturdays: Peterborough Regional Farmers Market
Saturdays: Evergreen Brickworks Farmers Market

WELLNESS SUBSCRIPTION SAMPLES FROM 2022