align to your higher self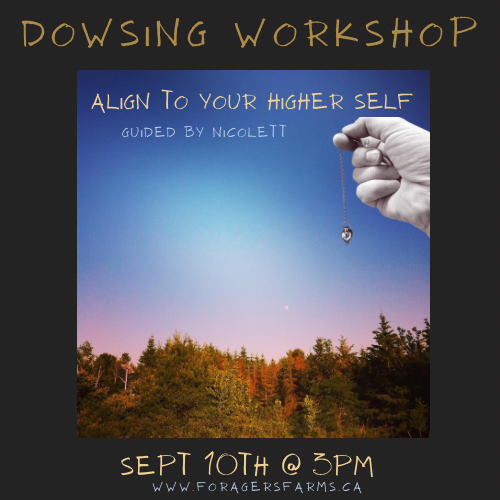 September 10th, 2023, at 3pm, at Foragers Farms
Turn left at the barn and park on the grass. Workshop will be held in our Wildings Workshop space.
(please bring your own pendulum, copper or brass is recommended)
$75/per person
CSA members of Foragers Farms save 10%
For more information: [email protected], @nicolettjakab


My name is Nicolett, I'm a dowser and astrologer, living in beautiful Port Hope. I've always had a keen interest in the mystical and esoteric arts and began exploring these mediums in my early 20's. The last couple of years, my dowsing practice has built up to a daily practice and I'm ready to provide guidance and understanding of the pendulum's power.
I'm always seeking to deepen my understanding of the unseen forces that shape our lives and explore the nature of reality. I continue my studies and refine my skillset in my daily practices through constant communication with my current client base and mentors that keeps me sharp, challenged, and focused. When I'm not dowsing, I'm with my family, or reading birth charts, or exploring the gifts of nature, and creating fun surreal photography. Come and join me, on a beautiful summer day at the farm.