What is a CSA?
Community-Shared/Supported Agriculture facilitates a connection between farmers and the surrounding community using a weekly subscription model. You make a financial commitment to secure a share of veggies stored in our root cellar and grown in our greenhouse from the first week of November to the last (4 weeks long). With this you also receive more bang for your buck with added value in every share! This is a great opportunity to eat in season, support a local farm, and a chance for us to restore the connection between people and where our food comes from in a sustainable way. The CSA model provides farmers with an equitable return for their skill, knowledge and labour; and establishes a strong foundation for sustainable agriculture all the while contributing to a healthier ecology. This system was created by Dr. Booker T. Whatley ; along with popular movements like "pick-your-own" and "farm-to-table" as he bridged the gap of social justice and organic agriculture. In his own words a CSA "enables farmers to plan production, anticipate demand and have a guaranteed market." Our CSA members receive a curated farm share by the farmers themselves.


Price:
Small Farm Share Only:
Duration: 4 weeks
Value: Receive $35/week of fresh organic fall vegetables from our farm.
Cost: $140

*Due to limited selection during the fall farm season there will be no swap outs for the November CSA
AKA ya get what ya get.

What's in it?
Each week you will receive a curated share of vegetables and herbs. You will come to the designated pickup point with a bag to transfer your vegetables into from a bin we have set aside for each member.

Fall Crops:

Cabbage, celeriac, storage radish, onions, squash, turnips, rutabaga, brussel sprouts, beans, beets, garlic, potatoes, green onions, radish, turnips, arugula, mustard, mixed greens, sprouts, lettuce heads, cilantro, dill, parsley.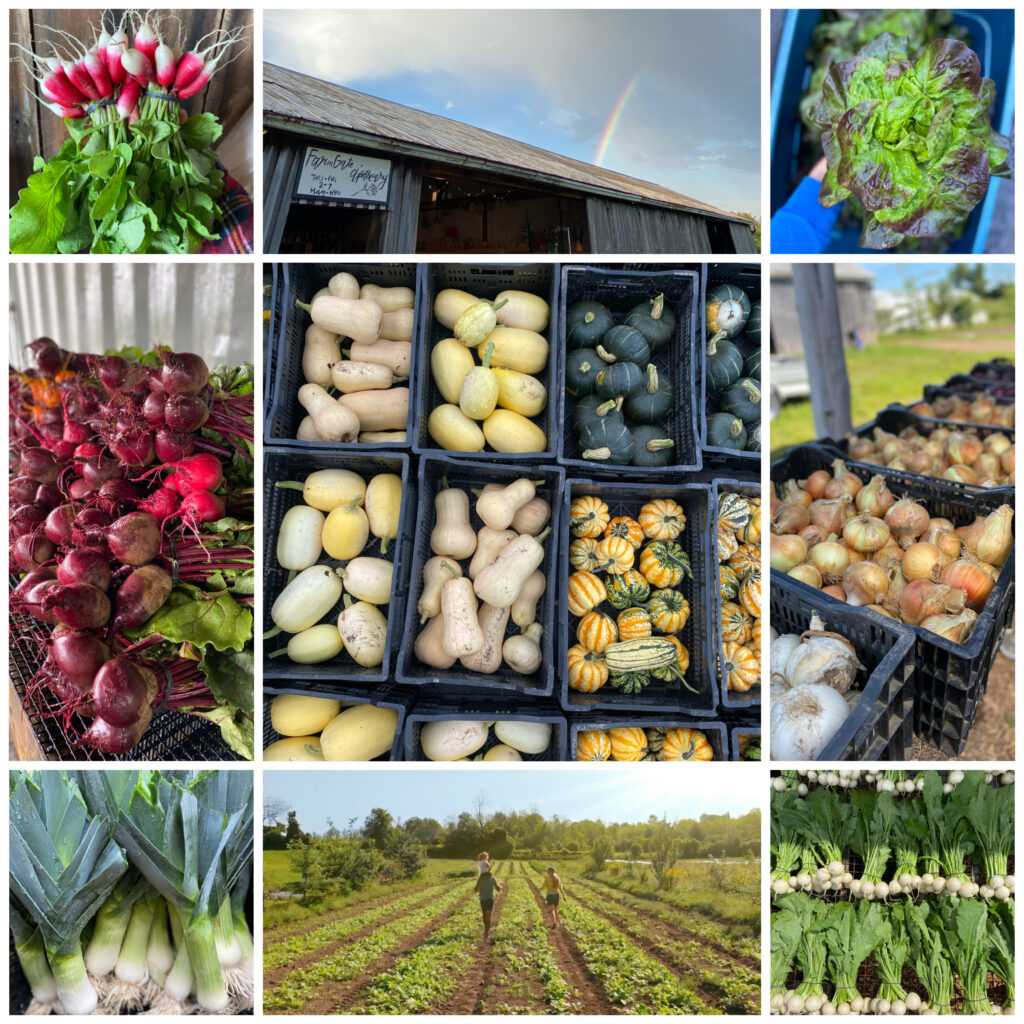 Pick-up Locations:
Get farmer curated vegetable shares here…
Fridays: self serve pickup @ the farm. We will show you where the share is kept and you pickup yourself from the dedicated area (our fridge). This means you can come anytime Friday during the day.
Saturdays: Peterborough Regional Farmers Market 8am-12
How to Join?
Step 1: Decide on your pickup location.
Step 2: Fill out google docs 2023 Autumn Light CSA Sign Up Form & Member Agreement.
Step 3: Payment: E-transfer, cash or cheque.
E-transfer to: [email protected]. Auto-deposit…no password required.
Payment terms:
We ask that you secure your spot with full payment of $140 by Sunday October 15th.